About the app
LYFLE can do a lot. Announcements, attendance, excuses, photo galleries, surveys, classroom, registry, GDPR and much more. All easily accessible in one app.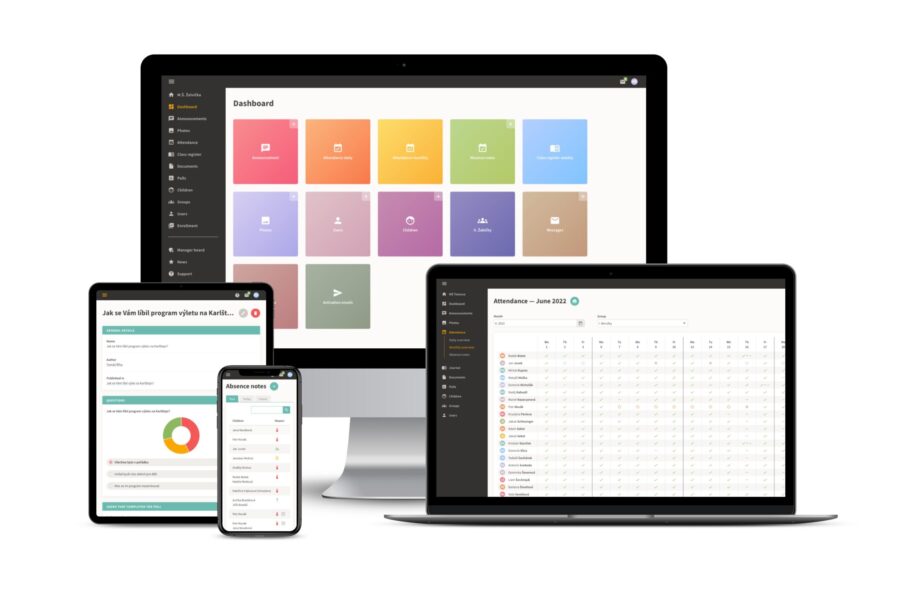 chat
Announcements and messages
LYFLE app provides parents with up-to-date information about their child's daily activities at preschool. Parents only see posts relevant to their children. With everything organized and sorted out for them, parents can stay informed and connected without any hassle. And teachers always know who's been informed right in the app. Parents can write a private message to ask about details or thank you for the kid's improvement. All communication within one app.
calendar_today
Attendance and excuses
With LYFLE, marking a child as present or excused is a breeze. All it takes is a single tap, and parents can easily create an excuse note in just a few seconds. This feature helps keep everyone in the loop – the teacher will know why the child was absent, and the cook can adjust meal preparations accordingly.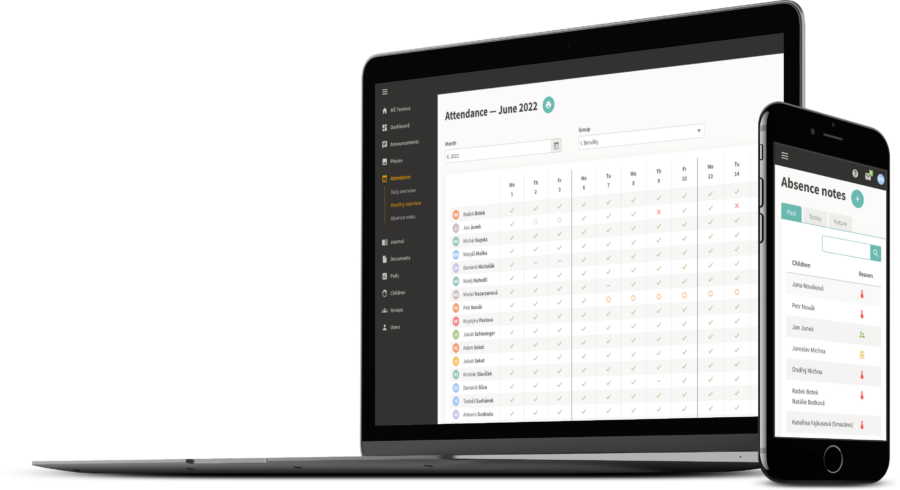 image
Photo gallery
With LYFLE, sharing photos from your child's fancy dress party has never been easier! Simply upload them directly from your phone and let LYFLE do the rest. The app automatically organizes the photos by class and month, ensuring that parents only see pictures from the relevant class. Plus, with automatic grouping, you won't have to spend hours sorting through dozens of photos to find the right ones. It's a quick and easy way to share memories with other parents and keep everyone in the loop.
poll
Polls
With LYFLE, creating and conducting surveys or polls has never been easier. Whether it's a quick question or a detailed questionnaire, you can set it up in no time. Plus, the app provides real-time updates, allowing you to see how individual parents voted as well as the overall results of the poll. Stay on top of your preschool's decision-making process and gather valuable feedback from parents with just a few clicks.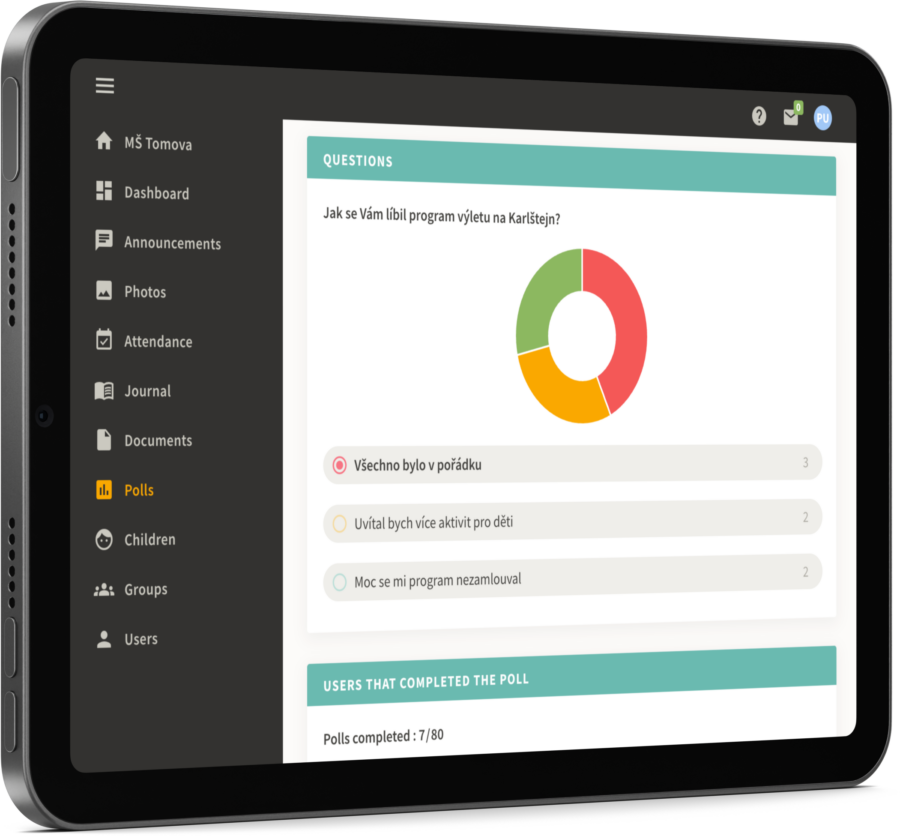 insert_drive_file
Sharing documents
Easily share files with parents in just a few clicks! Whether it's homework for preschoolers, organizational changes, or a long list attached to an announcement, simply select the file and share it hassle-free.
menu_book
Classroom activities
In LYFLE, you have access to an electronic classroom activity register where you can easily keep track of all the educational daily records. You can export them for inspection according to the SEVT standardized PDF.
group
Class register
LYFLE offers a comprehensive class register feature that allows preschools to manage children records with all of the important information. Whether in the office or on a field trip, all the members of the staff have information they need. Be it child allergies, parent telephone numbers or information about vaccination.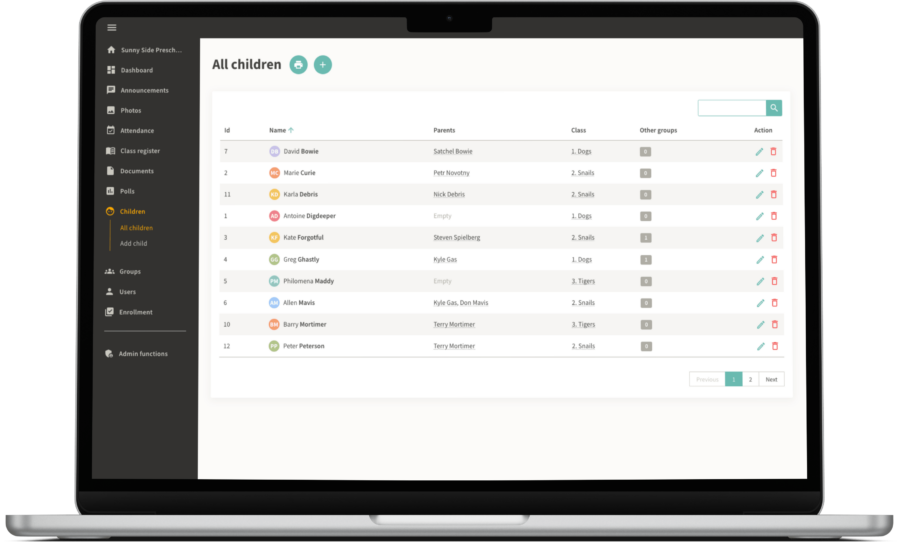 print
Data exports
All your data is safely and securely stored in LYFLE. However, you may need some of them in paper form. LYFLE allows you to export all necessary records in XLSx, CSV or PDF formats.
library_add_check
E-Registration
LYFLE's E-Registration (also known as Digital Enroll) simplifies the enrollment process. Parents can conveniently fill out the form at any time, and the app automatically adds the child's information once enrolled.
If your preschool uses Zápis do škol, we have good news for you. Thanks to our mutual partnership, you can easily import your school enrollment data into LYFLE.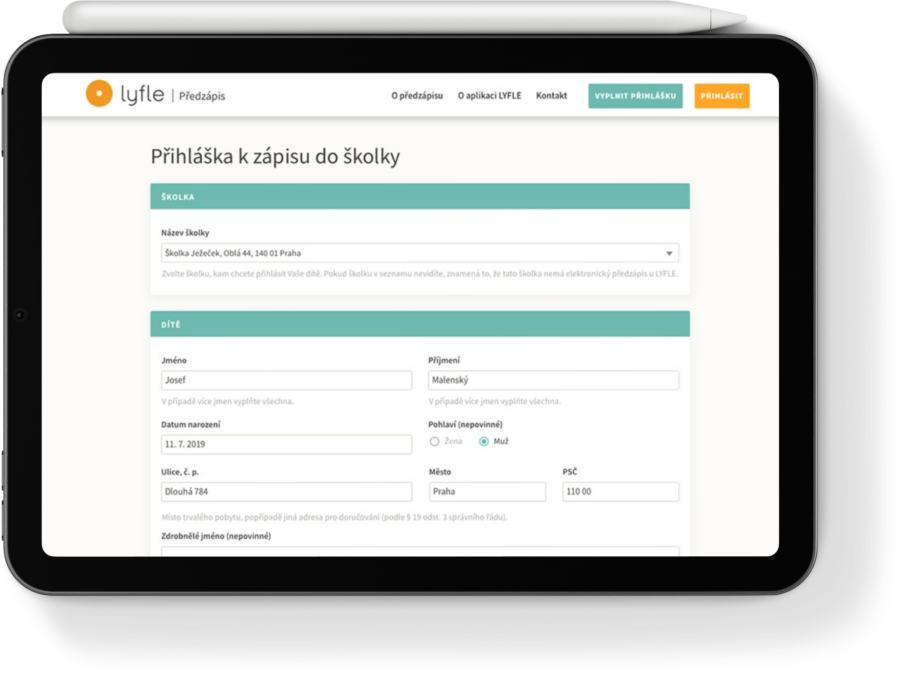 format_quote
Barbora Konečná, MŠ Dobrovského, Brno
The LYFLE app has accelerated communication between us and parents. I like the fact that I can write information for parents on my mobile phone, somewhere on the road. At the same time, we enjoy the attendance, we can already find out who is coming and who is not from home before work.
format_quote
Hana Krejčová, MŠ Meziškolská, Praha
We have only the best experience with LYFLE. It is definitely a great help in communication between the kindergarten and parents – excuses, school events, important reminders – we immediately know who has viewed and noted the notification. The photo gallery has solved our problem of storing photos of children from various school events – GDPR – originally on the school website.